Set the mood for fall with stunning containers that will last until the snow falls. These bright floral combinations will provide cheerful pops of color to the often-gray days of autumn. Decorating outdoor spaces for fall and Halloween is a hot trend.
What's Your Style?
There are so many ways to put a personal spin on fall containers. Think about the color of the container itself. Black glazed pots look especially dramatic with the warm color pallet of fall flowers. A more traditional style might include identical pots with matching giant mums bookending the front door. A monochromatic design could feature plants in different shades of the same color.
Accents
Choose pumpkins, gourds, pinecones, and other natural items for seasonal accents. A large pumpkin could be hollowed out to accept a nursery pot full of your favorite flowers. Dried plants and flowers like Japanese lanterns, bittersweet, and blackberry lilies would all be unique accents.
Thrillers, Fillers, and Spillers
The "thriller, filler, spiller" method is a great way to plant mixed containers. First, choose a thriller, usually a tall plant set in the center, or near the back if container is placed against a wall or high backdrop. They add an architectural dimension. Use ornamental grasses like purple fountain grass for height and a pop of color. If the containers are quite large, consider boxwood topiary, dwarf Alberts spruce, or shrubs with fall color like Virginia sweetspire.
Fillers are plants that generally grow wider than tall to fill in the pot. Examples of annual fall fillers are ornamental kale and cabbages, mums, dusty miller, ornamental peppers, and pansies. Perennial-fillers include coral bells, asters, brown-eyed Susan, and sedum.
Finish off with spillers — plants that cascade over the edges of containers to soften the look. Green or green and white variegated ivy is a great choice. So are, million bells, bacopa, and sweet alyssum.
Visit Your Garden Center
The best way to get inspired is to visit your local garden center. They'll have a wide range of beautiful plants perfect for your climate at this time of year. They may even have pots on sale. Take your time and group your new plants in your cart to get a feel for the design. Do you have height, great color, and some fun spillers? Most garden centers will also have container combinations planted up. Let them inspire you. Have fun, experiment, and remember anything goes.
The Fun Begins
Once your plants are home, the fun begins. Pull-on your trusty gloves to protect your hands and jewelry. Fill your container with a good quality potting soil, leaving a few inches near the top. Gently remove the plants from their pots and arrange them. When you're happy with the design, grab your trowel and plant them at the same depth as they were in the pot. Add more potting soil as needed. Water well using a watering can like this light, foldable watering can. It stores flat and won't take up any space. Finished? It's Instagram time!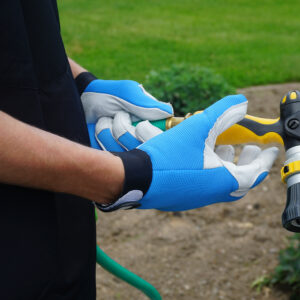 #634_Leather Work Glove
#178_BIG Grip Trowel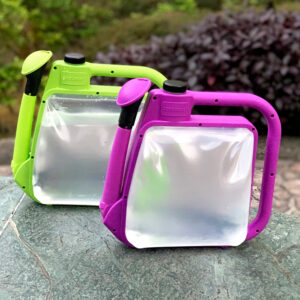 #1407_Foldable Watering Can