Many gardeners who fill their homes with houseplants, have trays of veggie seedlings, or a counter of fresh herbs turn to whatever is at hand to perform indoor gardening tasks. Where did the kitchen shears go? Behind the pot of basil, of course. How about that 8-cup measure? . The cat's nail clippers, the extra sets of chopsticks, the child-sized plastic kitchen utensil set—they all find plant-tending uses in a plant parent's home.
These indoor gardeners are selling themselves short. They deserve specially sized and specifically designed tools for small spaces and gardening tasks inherent to indoor gardening. In fact, the folks at Centurion have the tools you need.
Precision Snip
Put those kitchen shears back in the knife block, please. The Stainless Precision Snip offers the accuracy and control to clip while in tight or close quarters. The ¼-inch diameter beveled blades allow you to cut herbaceous stems and leaves cleanly. Use them to snip a handful of herbs for a dish or accurately clip and trim a bonsai. Whether it's the weekly trim-off-yellowing leaves task on a shelf full of foliage plants or the snipping of cuttings for rooting your next crop, the spring-loaded cushion-grip handles are a comfort to use over and over. The stainless material means easy cleaning, no rusting, and smooth blade action.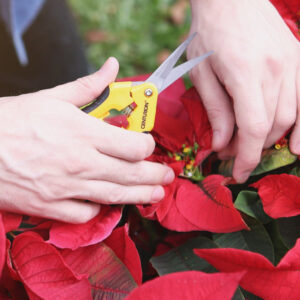 #201 Percision snip set
Deluxe Collapsible Bucket
While you're snipping off decaying leaves and harvesting herbs in your prop room, you'll want to use something other than your breakable mixing bowls. Centurion's Deluxe Collapsible Bucket is BPA-free and made from non-porous silicone. The 2.6-gallon lime-green bucket is meant for heavy-duty tasks while saving storage space while not in use—it collapses down from a height of nearly 10 inches down to just under 2 inches!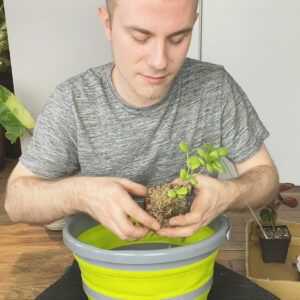 #1402 Collapsible bucket
Battery Sprayer
If you have a wall of cascading houseplants or tray upon tray of germinating seedlings, you know how hard it is to provide them with a moist environment. Picking up that generic spray bottle or mister, your forearms might automatically start cramping in anticipation of the constant pumping action. Not to worry now that Centurion has a battery-operated model. The quart container's two-AA battery-powered nozzle lets you continuously mist without having to pump a trigger. The nozzle itself has spray patterns from a fine mist to a straight stream. It even works when tipped upside down.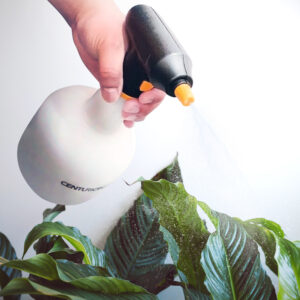 #1575 Battery sprayer
Indoor gardening should be an almost-meditative pleasure. With these snips, bucket, and sprayer, your plant care routine just became more enjoyable!