Make quick work of pruning hedges, trees, annuals, and perennials with sharp, dependable tools.
Using the wrong tool makes any job harder. Imagine trying to pound nails into a fence with a screwdriver or trimming your shrubs with sewing scissors. It just wouldn't work. You'd waste time and energy, and your project would be a disaster.
Now imagine using the right tool. A heavy-duty auger makes fence-building go faster, and precision shears cut effortlessly through woody branches. You'll have time to catch the big game on TV, your hands and arms won't ache, and your results will look great.
Great gardens start with great pruning tools. Centurion's Bypass Pruner uses hardened steel blades to slice through wood and branches up to 5/8" thick. Thanks to a low-friction, rust-resistant coating, the curved blades cut easily, and a self-cleaning groove draws sap away so they won't stick. The handles have non-slip grips and an easy-open lock to secure the blade. These pruners are made for left or right-handed use.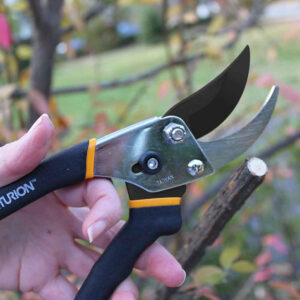 #192_Steel Pruning Shears Bypass Pruner
While bypass pruners have two blades that move past each other, like scissors, anvil pruners have a blade that presses against an anvil (a metal plate in the pruner's lower "jaw"). The action is somewhat like a knife being pushed onto a cutting board. While bypass pruners are ideal for cutting soft plant tissue, anvil pruners are a better choice for dead or dry plant materials or wood. Centurion's Anvil Pruner features a non-stick, hardened carbon steel blade that cuts through diameters up to 5/8 inch. Ergonomic, cushioned handles are designed for right or left-handed use and have a one-touch safety lock.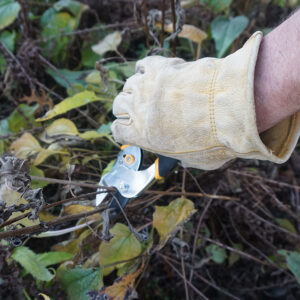 #193_All Steel Blade Sharp Anvil Pruner
Don't need that much power to maintain your flowers, herbs, or other plants? Centurion's two-piece snip set is great for deadheading faded blooms or trimming and shaping plants like snow peas, strawberries, and roses. One snip has a curved blade, and the other has a straight blade. Both are made of sharp stainless steel and make clean cuts all the way to the tip. Built-in springs gently open the blades after each cut and cushioned grips help reduce hand fatigue. The cheerful yellow handles are easy to spot if you tend to misplace your tools.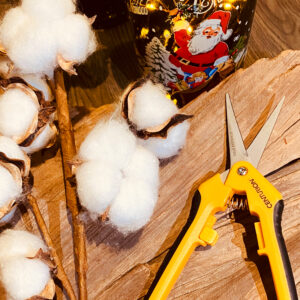 #201_Stainless Steel percision snip set
If you prefer a loop handle to hold onto, Centurion's Loop Handle Pruner offers the same kind of hard-working, stainless steel blades and comfortable grips as their other pruners. This spring-loaded tool cuts branches and stems up to 5/8" in diameter, and the looped handle protects your fingers when you're trimming deep in plants or wood. It's made for right or left-handed use and has a hang-hole for easy storage.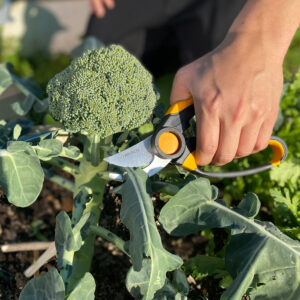 #194_Stainless Steel Loop Protected Garden Bypass Pruner
Done at the proper time, pruning keeps your landscape healthy and vigorous. When you need to remove dead branches, shape up your boxwoods, control your crepe myrtles, or improve the air circulation around your apple trees, the right pruner can cut your plants–and your workload.