The Knock Out® family of roses is the essence of easy garden plants with their disease resistance, self-cleaning flowers, and season-long show of colorful blooms. While Knock Out® roses may be one of the most fuss-free lines of roses on your garden center's benches, they still benefit from a yearly cutting back in your garden to maintain their shape to a perfect 3-4 ft. height and width.
Late winter to early spring is the time to take up this gardening task. This is when you check your Knock Out® bushes for any new shoots emerging from the canes. When you spot new growth, you know it's time to trim back to just one ft. high.
With the right Centurion tools, you can knock out the trimming of a whole hedgerow of Knock Outs® in no time. Just follow these steps, and you'll be back inside with a warm cup of something before you know it.
Step One: The Right Tools
Gather all your tools so that once you're out there, you can get to work.
Gloves: Choose a pair that will protect your hands from thorns while also allowing you to handle hand tools deftly. Our 100% Cowhide Leather Work Gloves are puncture resistant and durable.
Our Genuine Winter Work Gloves have 100g of 3M Thinsulate for a bit of cold-weather protection. These also have fingertip patches for extra puncture protection.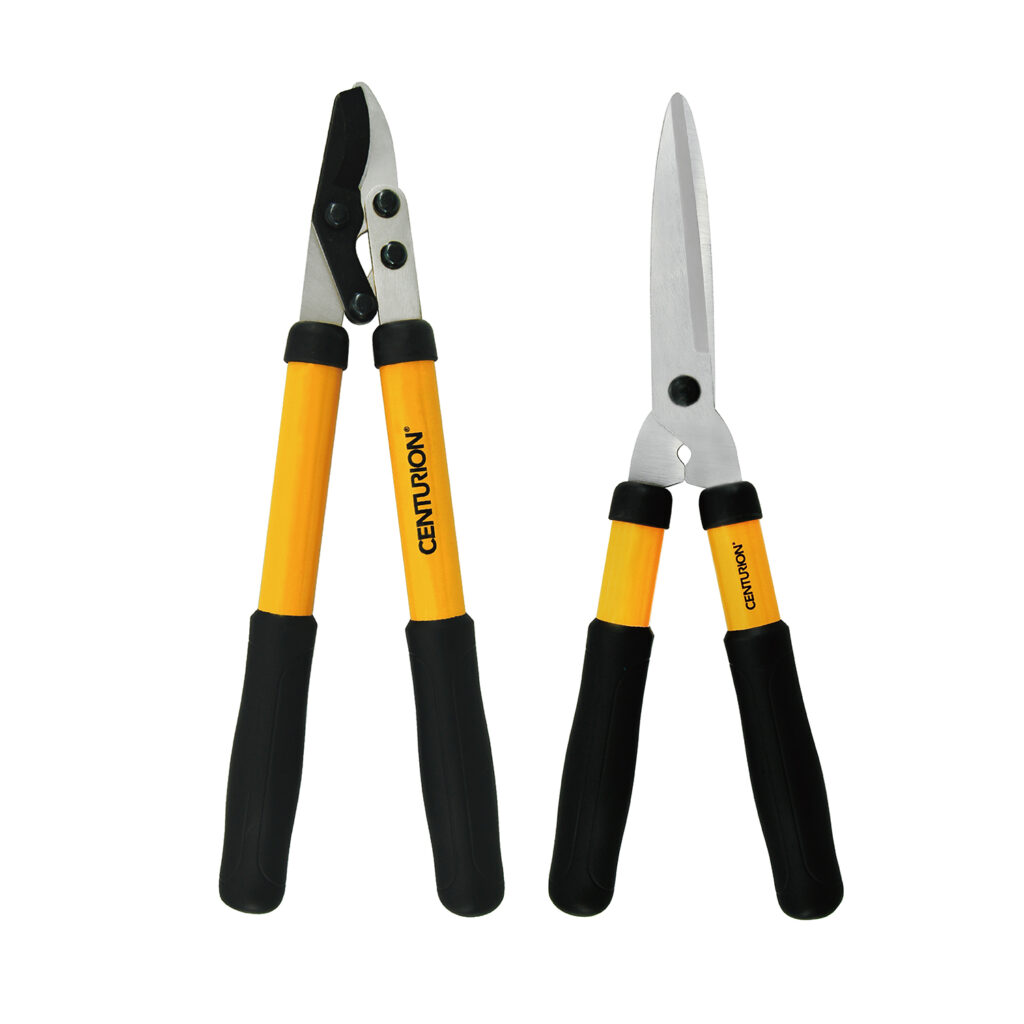 Hedge shears: Centurion's line of hedge shears offer a trimming device that is right for you. From the 6-inch Mini Hedge Shears that offer precision shearing to the 10-inch Compound Action Hardened Carbon Steel Hedge Shears designed to reduce arm and shoulder fatigue, our hedge shears will make rose pruning light work.
Hand pruners: Any of our bypass and anvil pruners will help you make precision single-branch cuts for putting the finishing touches on your Knock Outs.
Rake: A long-handled rake will help to gather the cut branches that have fallen on the ground and under the bushes.
A wheelbarrow or large tarp is also a good idea for carting the branches away.
Step Two: Where to Make Your Cuts
Before making your cuts, decide how large you want your Knock Out® rose to become over the growing season. Knock Out® roses usually triple in size during the season. If you want your bush to be 3 ft. tall, trim it to 1 ft. tall. Use your hedge shears to make the cuts and shape your entire bush.
Step Three: Assess Smaller Branches
After the initial trimming, do a general sweep of cut branches. Getting the cut branches out of the way will help you see the individual bushes better. Look for those branches that look damaged or out of balance with the rest of the bush, and remove those with your hand pruners. If the interior of the bush seems dense with canes, remove select canes to help increase airflow.
Step Four: Remove the Debris
And just like that, you're ready to remove the discarded branches and canes. Your gloves will undoubtedly come in handy for this task!
Find the Centurion Tools to cut, trim and finesse your Knock Out® roses into the size and shape you desire at www.centurionbrands.com.